Investing in Social Determinants of Health
Building Strong, Healthy Communities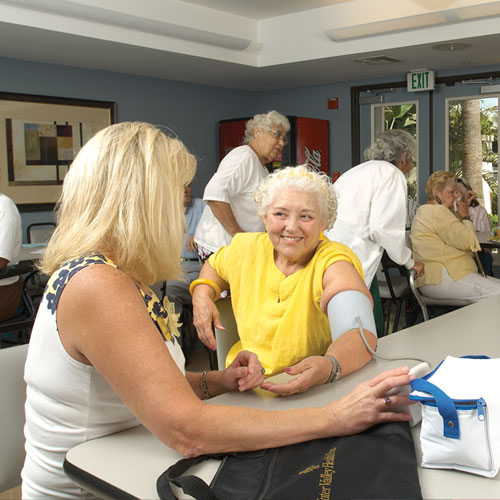 The connection between healthy living and personal success is undeniable. Conversely, the combination of poverty, a lack of education and inadequate shelter is a prescription for poor health. That is why National Community Renaissance and the Hope through Housing Foundation have created a powerful model that combines safe, stable housing and supportive health and social services that can lead to positive health outcomes for thousands of residents across multiple states.
Our model begins with high-quality, affordable housing, which serves as the foundation of our program. And upon that firm foundation, we offer fitness, nutrition, and wellness programs in conjunction with our strategic partners, including healthcare systems, insurance providers and educational institutions. Hope through Housing also provides a combination of after-school programs, employment assistance, and financial literacy training that impacts critical social determinants of health. Stable housing, jobs that produce income and family savings, and access to healthcare services result in an effective formula for changing the health trajectory of low-income residents.
"We are proud to be part of the transformation taking place in this community. As a large employer and anchor in the community, we are working to bring stability to San Bernardino neighborhoods. We are grateful for collaborations like Arrowhead Grove, which share our common vision to strengthen neighborhoods that are struggling."
~ Douglas Kleam, President
St. Bernardine Medical Center
Affordable Housing Reduces Healthcare Costs
Safe, affordable housing is a social determinant of health. When individuals are adequately housed, they live healthier lifestyles, and in turn, healthcare costs are reduced. Statistics show that most homeless individuals do not get regular health checks, only go into the hospital when they are critically ill and are at a higher risk of engaging in risky behavior. According to a study by the American Hospital Association (AHA), affordable housing had the following impact:
Reduction in number of days in hospital
Reduction in emergency room visits
Reduction in the number of days spent in nursing homes
Decline in overall Medicaid expenditures
BECAUSE OF YOU
we are making a difference in the lives of children, families and seniors living in poverty. Together, we transform lives and communities.